Three award-winning musicians from Newcastle – Northumbrian piper Andy May, guitarist Ian Stephenson, and fiddler Sophy Ball come together as the Andy May Trio to play high energy instrumental folk, inspired by the music of their native North East.
Performing traditional local tunes, newly-composed material and an introduction to the pipes all delivered with warmth and humour, their shows draw in folk aficionados and newcomers alike.
There's a certain connection only heard between musicians after many years' playing together; after more than a decade's music making together in various guises the tight interplay and sense of fun between these three friends is sure to delight.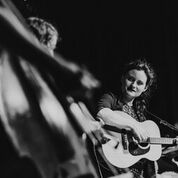 The Andy May Trio will be joined by Wiltshire-born folk singer Rosie Hood. Rosie, nominated for BBC Radio 2 Folk Award, is a folk singer/songwriter from Wiltshire known for her strong, pure voice and captivating performances. Immersed in traditional music most of her life Rosie released her critically acclaimed debut album "The Beautiful & The Actual" in 2017.
Tickets £12.50 from Hearth Cafe and online from this website.
The Hearth Cafe will be open from 5.30pm for evening meals, please book on 01661 853 563